Step inside this beautiful custom home
Our latest project in Brighton is a highly desirable family home with plenty of modern and nostalgic street appeal and a selection of innovative features. From the high-quality interior design to the functional zoning of spaces and energy-efficient heating system, this custom home caters to modern living in a stylish and practical setting.
While it contains everything you could desire in a functional family home, our Brighton home's offering goes well beyond that. The completed design features a cellar, bar, indoor pool, sauna, steam room, kids' playroom, study, recreation room, gym, alfresco area and a vegetable garden to entertain every indulgence.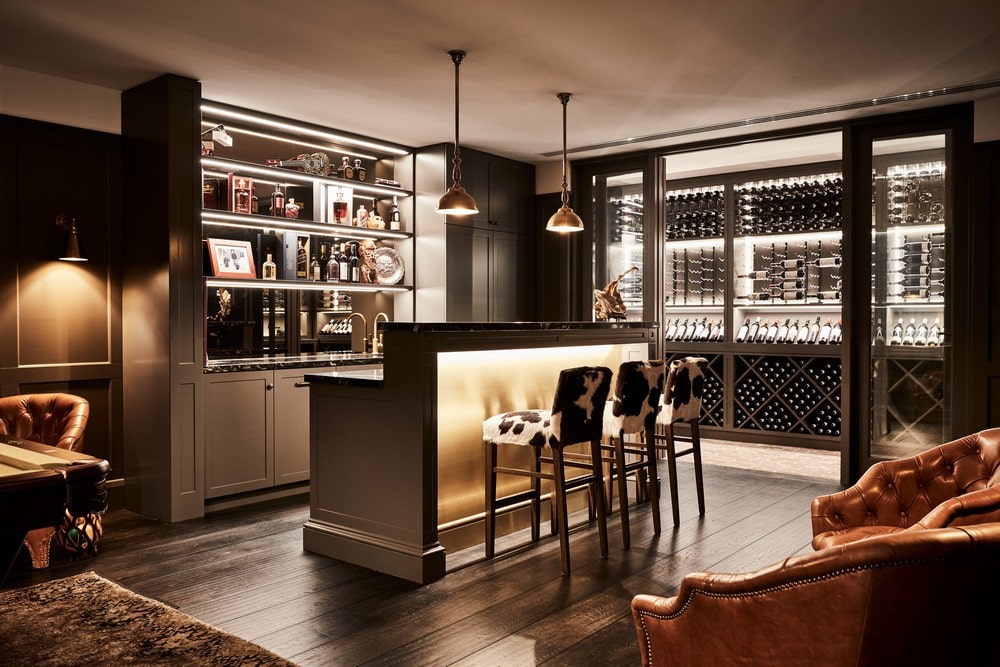 Designed by Christopher Doyle Architects, this home fits seamlessly within the streetscape while maintaining a striking presence thanks to its French provincial aesthetic of ornate carvings, mouldings, and decorative wrought iron.
Designed for ease of living
This five-bedroom, six-bathroom home is a masterclass in elegant design, combining expert craftsmanship with an innovative approach. We expertly utilised the size and scale of this project to create a seamless flow between zones and allow our client to enjoy their leisure time in maximum comfort.
The basement is used for recreation and car parking, while the formal and general living area is the main focus of the ground floor. Outdoor entertaining is at the back of the property. Bedrooms are zoned to level one, allowing for peace and quiet when it comes to rest time. Despite being separate and distinct, all areas can be opened up to encourage flow around the property via swinging and sliding doors.
While it is a large home, each and every zone has been constructed to serve a purpose as per the clients' brief. Perhaps its crowning feature is the stunning central stairwell that unites each floor, bringing in an abundance of natural light through the custom skylight, and setting the aesthetic tone for the rest of the home.
Kitchen
The entertainer's kitchen resides at the heart of the home. In addition to the main space, it holds a butler's pantry, mudroom, and walk-in cool room, and is outfitted with state of the art Vzug appliances.
The double sinks have incinerator units for easy disposal, while a Billi tap in the butler's pantry allows instant access to hot, cold and sparkling water. We also included a drop-down TV to allow our client to catch up on the morning news, a desk area in the mudroom, and a multitude of storage solutions for clutter-free living.
Dining
The formal dining room is a breathtaking part of this Brighton home design. Featuring hand-painted fresco wallpaper, an ornate glass chandelier and royal blue accents, this room is truly unique. With convenient access to the kitchen via the well-appointed butler's kitchen, dinner parties are seamless in this space.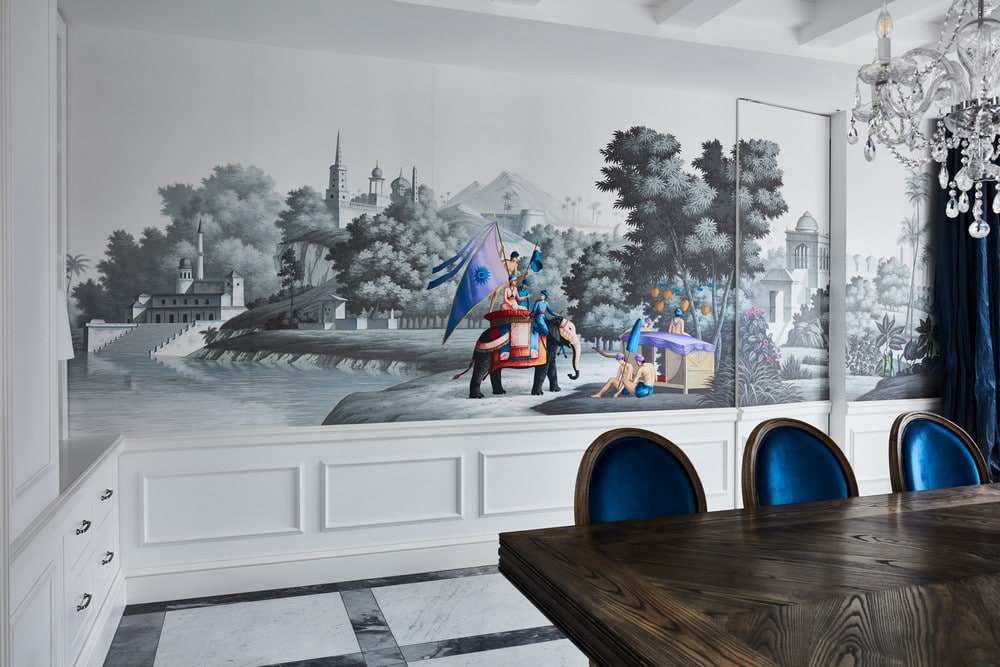 Bathrooms
Each bedroom features its own well-connected ensuite with a range of innovative features. An electronic thermostat-controlled water temperature monitor in the shower means an ideal temperature is maintained at all times.
A custom waterjet-cut marble mosaic floor tile sets the aesthetic tone for the space, complemented by marble vanities and soft grey tiling. Australian-made Brodware taps complete the look, satisfying both form and function. The balance between style and substance doesn't end there, as a switch glass window changes from clear to frosted at the flick of a switch.
Laundry
By situating the laundry on the first floor with the bedrooms, we made doing washing easy. We overcame the issue of air-drying by introducing direct access to a private external balcony with a clothes line, while a hydronic panel was installed for quick drying on cold winter days.
The laundry may be a functional space, but this doesn't mean it can't have elements of luxury. For example, a niche in the cabinetry includes an integrated TV, designed to offer some entertainment when sorting clothes or ironing.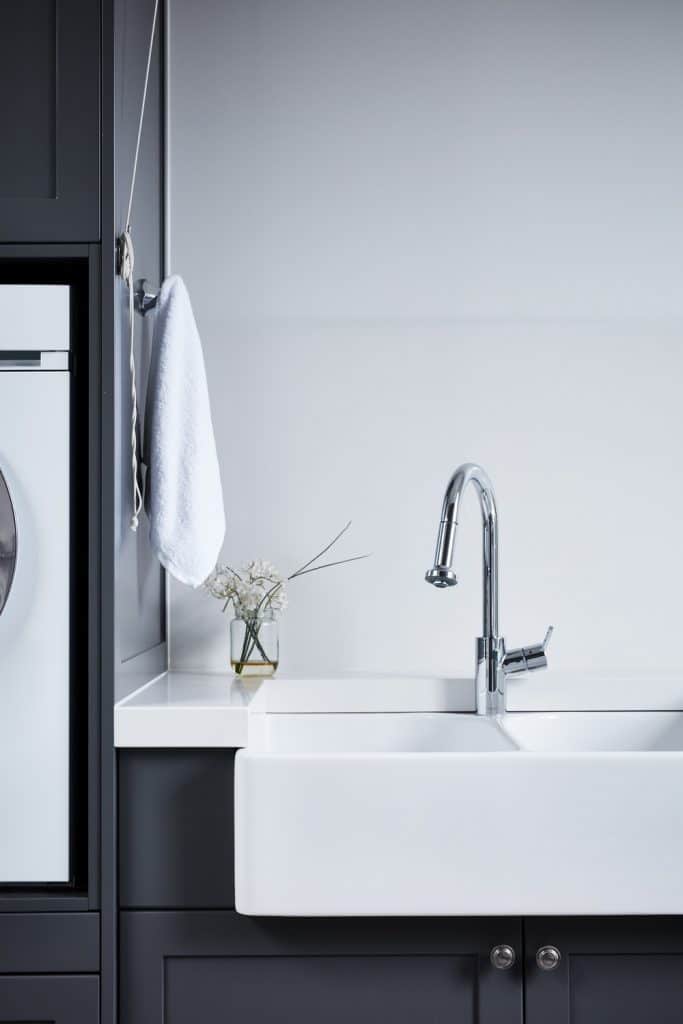 Outdoor spaces
Despite the spacious interiors, we maintained good yard sizes with multiple use zones around the property. The home features a circular drive with remote access, making it safe, secure and easy to park. A basement garage, again with remote access, provides secure parking and direct access to all levels of the residence, via a lift or central staircase.
Access to outdoor living areas is easy in this home – we installed multiple sets of French doors to access the alfresco living areas, and the alfresco and pool area can be opened up to the yard via large bi-folding doors and windows.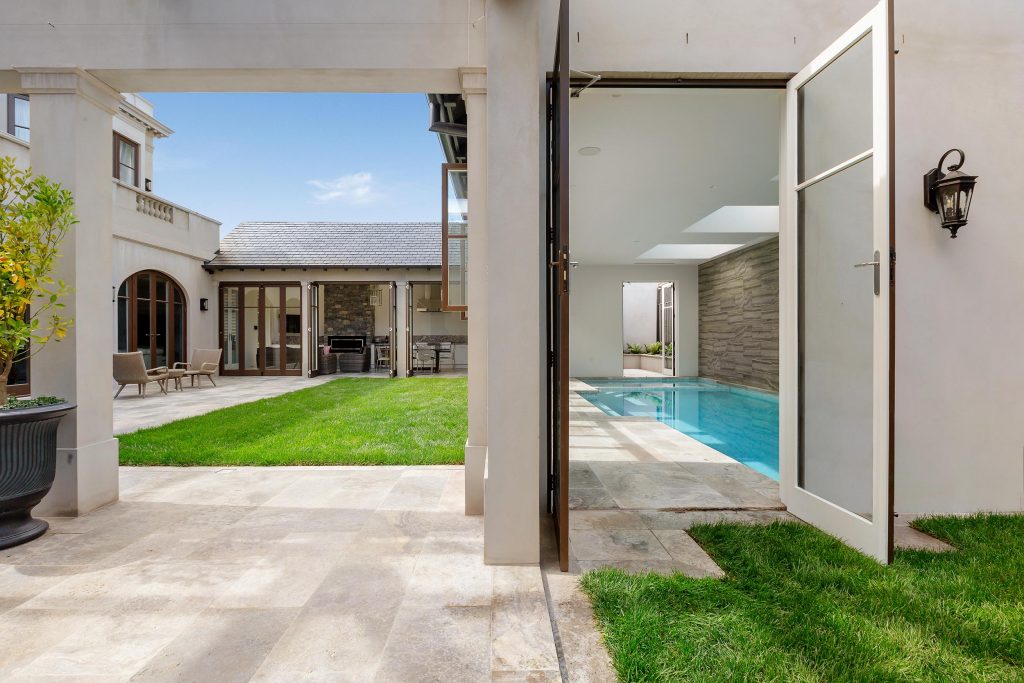 Sustainability
The construction of this home goes well beyond the minimum requirements needed to facilitate sustainable living. The home was built with multiple opening points to allow cross-ventilation that would take advantage of sea breezes. The use of skylights allowed for an abundance of natural lighting, and we also installed a 20kw solar system to produce and store power in case of an outage.
Sheridan installed a state-of-the-art HVAC system that controls and services the hydronic heating, fan coil air-conditioning, basement ventilation, pool heating, climate control of the pool house and hot water. This system, when paired with solar electricity, can be over 80% more energy-efficient than conventional systems.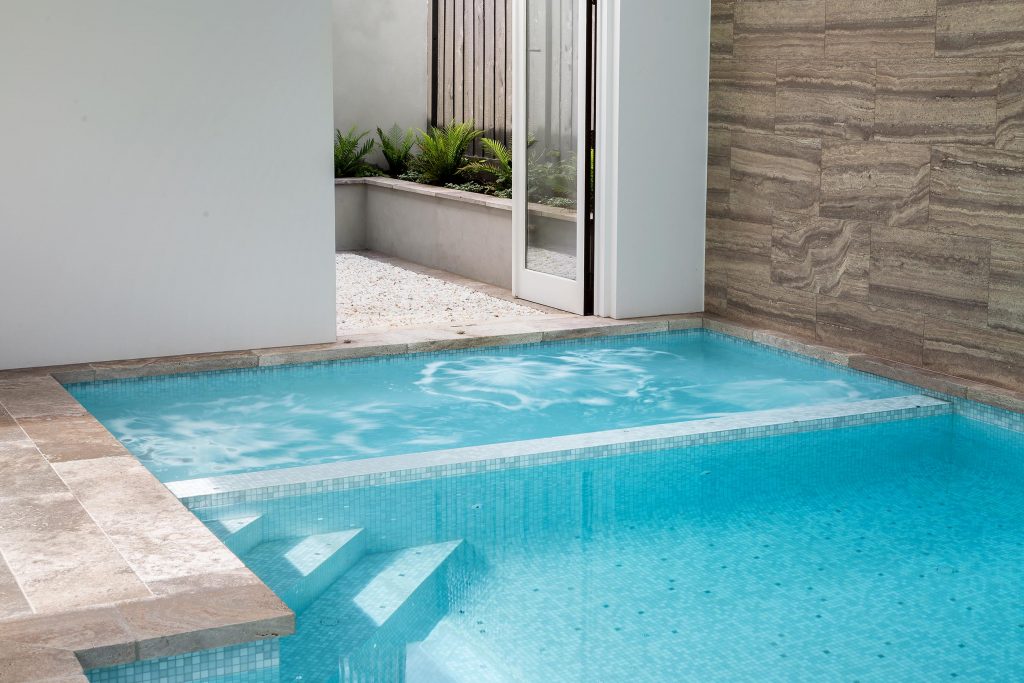 Inside, high-end water-efficient appliances and fixtures have been used throughout the home. To complement this, we also included a ring main hot water system that significantly reduces lost water.
_____

To learn more about our recently completed Brighton project or to find out how Sheridan Building can help create your own architecturally-designed custom home, get in touch with our team today.