Moonee Valley's Custom Home and Luxury Extension Specialist
At Sheridan Building, we are the experts in creating exceptional, luxurious homes that are tailored specifically for each of our clients. For three generations our family has been building stunning, award-winning homes in Melbourne. We bring this experience and expertise to the homes we create.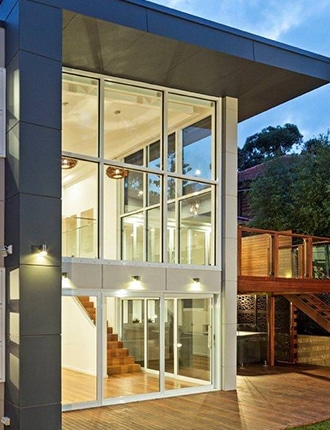 Sheridan Building was founded in 2007 by two brothers, Jarrod and Travis Sheridan. We have spent our whole lives immersed in the construction industry- our family spanning three generations of Melbourne builders. This has provided us with an unmatched depth of knowledge about every facet of construction, which we've applied to building our own award-winning luxury homes. We are personally involved in every aspect of the building process, from early consultation to completion.
We provide our distinguished building service to the Moonee Valley region. We specialise in new custom homes and luxury extensions and prioritise exceptional customer service, attention to detail and high-quality finishes.

Design and Build
The process of building a home can be a daunting task, but at Sheridan Building, we make it as seamless and simple as possible.
Virtual Design Studio
With state-of-the-art technology, we are able to walk through your proposed dwelling – including upper and lower floors…

Interior Design Service
Our building process includes an appointment at a Purpose built selection studio hosted by qualified designers.

Custom Homes
Everyone's dream home is different. That's why at Sheridan we offer a personalised process that places your needs and wants first.

Luxury Extensions
Does your current home need an elegant revamp or addition? We're experts in luxury extensions here at Sheridan Building.

Collaboration
Collaboration is key at Sheridan Building, and that's why we collaborate with amazing architects, interior designers and other consultants.
Aaron, Strathmore Project
Sheridan Building was first class from the time we first contacted them to quote for our new home to after the build was completed. Communication was excellent, so we were always informed of how the house was progressing and they provided valuable input to our architecturally designed home which improved the overall house. They were thorough in their quotation and delivered the home on time and in budget despite it being a large and complex build. The entire process was enjoyable, and the final product is a high-quality home due to their attention to detail and perfectionism – it was like they were building their own home. Sheridan Building use top quality tradesman for all their work and were also very helpful (excellent cabinet maker, plumber and electrician). We are so grateful for their work and recommend anyone wanting a top-quality build and a great process to engage Sheridan Building.
Britt, Strathmore
How lucky were we to have Jarrod and his trades devote their skills to this house as if it were their own home. Their precision, attention to detail and genuine care for the outcome was so evident and resulted in a great quality home and an enjoyable experience for us. Our family are very grateful – thanks so much Jarrod.
Noni
Thanks again for what was an exceptionally quick and pain free build. Your tradesmen were fantastic – courteous and professional. I was also impressed that when you said something would happen it did. We only had to tell you something once and you remembered it. It may sound like small things but our experience with tradesmen has been the complete opposite.
Get acquainted with the team behind Sheridan Building. Over the years, we've put together a dedicated and hard-working team that prides themselves on fulfilling client's vision for their dream homes.